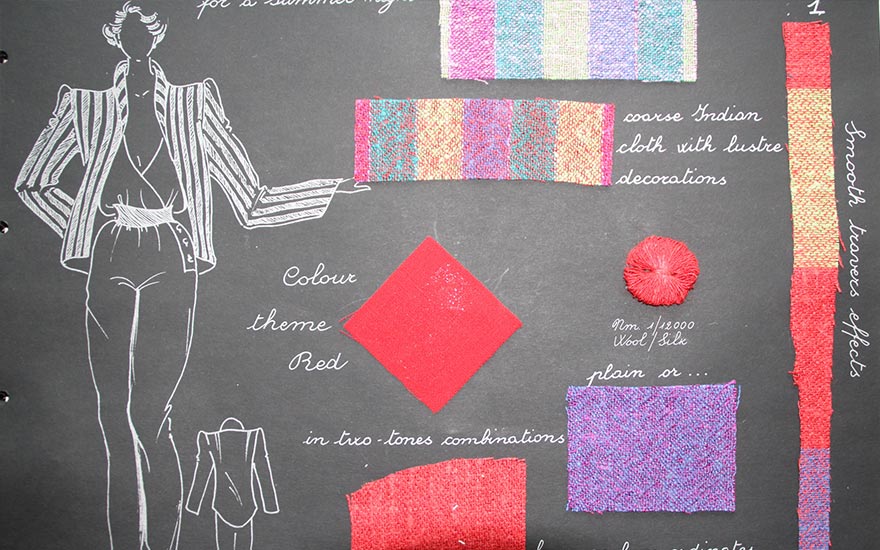 The technical staff that contributes to making the business plans boasts over 50 years of experience in the textile field and the fashion market, in textiles and clothing. The technical staff has the following established proficiencies:
They are among the most versatile and well-rounded in the world in the various technology and product sectors related to fabric production using the full range of both natural and man-made fibers;
They are able to perform (and verify) all of the individual operations, even manual or more complex ones that require advanced technologies, positioned in multiple stages of manufacturing, from threads, to fabrics, and even to finished pieces; They are also able to identify flawed operations and make suggestions for their improvement;
They are among the few professionals who know how to design samples of textiles, keeping the final product in mind, which has to be designed with good taste and to the specific requirements of the average final consumer, who is sophisticated and demanding, and attentive to the quality and price;
They also have experience in the design and production of refined clothes and accessories in particular (scarves, shawls, bags, etc.);
They have been tested on their technical knowledge which allows them to intervene in all stages of the textile chain for woven fabrics (selection of fibers, spinning, warping, preparation, weaving, and all the adjustments to control the most delicate and sophisticated phase, namely, the finishing as well as all the additional operations that distinguish the fabrics from each other). They can also assist with knit fabrics (selection of fibers, spinning, knit weaving - both circular and flat knitting machines - and finishing/dyeing).
They have the ability to access and use large textile archives;
They enjoy close-knit and well-established personal connections with the most influential players in the international fashion market.